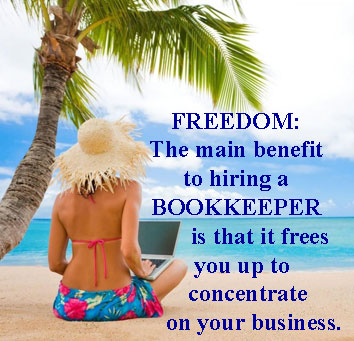 Bookkeeping Services
At Cari Elaine Bookkeeping, we understand that most individuals, small business owners, and entrepreneurs would prefer not to spend their precious time entering receipts, balancing accounts, checking to see if they paid the electric bill, invoicing and collecting payments, and reconciling their bank accounts. They would prefer to spend that time growing their business or spending time with their families. If you are you looking to spend less time managing your day to day finances and accounting, Cari Elaine Bookkeeping is the answer for you. Cari is a certified QuickBooks ProAdvisor with over 12 years experience with QuickBooks. With over 15 years in Business Management experience, we are ready to help free you from the time-consuming tasks of general accounting and bookkeeping. Let´s face it, your time is money! That is not a cliche. Let us take the accounting tasks from you so you can focus more time and energy on the things that YOU enjoy and that make your business money!
At Cari Elaine Bookkeeping our role is to provide you with the peace of mind knowing your finances are being efficiently managed for you in a professional, honest, organized, and timely manner. We want to give you the peace of mind knowing your accounts are up to date and ready for the end of year and tax time. We want you to be safe from financial fraud and theft, with confidence you have the appropriate checks and balances in place. We want you to be able to see areas quickly that may need adjusting, so you can better focus your energy on growing your business or staying on budget. We offer consulting services as needed, QuickBooks Online setup and training, Daily, Weekly, or Monthly Bookkeeping, Accounts Payable and Receivable, Monthly Invoicing for Service Industries, Payroll, and many other Bookkeeping services to help streamline and organize your finances.
We are located in beautiful Venice Florida with clients throughout the Greater Sarasota area and the United States. All your bookkeeping needs can be fulfilled at your business place, our location, or via remote access from anywhere. The tools we typically use to streamline this process are QuickBooks Online, Plooto Payments, Bank Bill Pay, a Shared Gmail account, a cloud drive (DropBox, Google Drive, OneDrive), Wunderlist, and TeamViewer. These tools help us focus on Small Businesses Accounting, Payroll, and General Bookkeeping for Service Businesses (Lawn Service, Pool Service, Cleaning Service, etc.), Sole Proprietors / Schedule C Businesses, Daily Money Management, and Medical Practices, Retail Stores, and Restaurants to name a few. We love helping clients with all their financial and bookkeeping needs!
What can you expect to pay for a bookkeeping service? We will bill hourly for the first 3 months and then at the end of the 3 months you will be given a monthly package option that is based on the average hours of the previous 3 months. There is a two hour minimum per month. Bookkeeping rates start at $55 per hour.